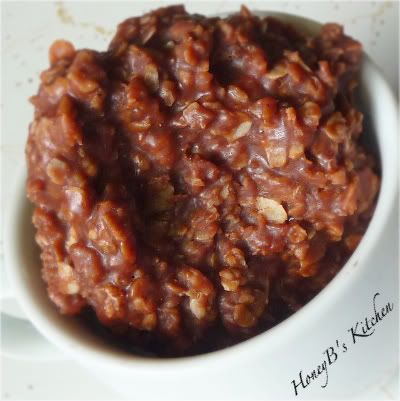 Yes, that's it.  It's all her fault.  :-p
My biggest addiction is coffee.  My biggest temptation is the Karma Latte (made with low-fat milk please) with the house blend (I believe that is Laughing Llama).  Two – three times a week I head into
Jernabi Coffee
to feed my addiction.  If I could afford to go every day I would go.  As it is I buy 1/2 a pound of ground
Mysore Nugget
on a regular basis to feed my addiction every morning at home … and
no
.  I. do. not. share.  Not willingly anyway.(**see note).
I'll bet your wondering what does this have to do with cookies?  Well, the fact of the matter is Annette decided to make some no bake cookies to sell in her coffee shop.  Sinful woman putting that temptation in front of me.  If there is anything I like as much as my coffee…..it's chocolate, fudge like cookies.  Namely, No Bake Cookies.  No Bake Cookies can be super tricky to make and not everyone can make them and be successful.  Heck, I'm not always successful myself.  I've not cooked them long enough and I've cooked them too long.  Annette made them perfectly.  So perfect I went in two days in a row and bought a cookie each time I went in.  My third day she had just eaten the last one herself!!!  The nerve!  haha.  She promised to have them there again the next day she worked so I'll be looking for one come then….but in the meantime I could not stop thinking about them.
I started thinking about how would they be with Nutella instead of peanut butter?  Or maybe I should put some unsweetened coconut in them.  I thought about them so much I ended up making them.  I know what you're thinking….she's on a diet.  That dirty 4-letter word.  Well, I am following that 4-letter word, but I am also exercising my butt off so I'm allowed.  So. take. that. Grumpy.  he he.
HoneyB's No Bake Cookies
2 cups granulated sugar
1 stick butter
1/2 teaspoon salt
4 Tablespoons cocoa
1/2 cup milk
1 teaspoon vanilla
3/4 cup unsweetened coconut
2-1/2 cups quick cook oatmeal
3/4 cup peanut butter (smooth or chunky – but I used smooth)
Mix sugar, butter, salt, cocoa and milk in large saucepan.  Bring to a boil and cook for 10-15 minutes.  I cook until the syrup looks like its starting to thicken a little bit (on my stove – 10 minutes, the low heat is hotter than normal).  I believe other recipes may say to bring to a soft boil stage – you can do this with a candy thermometer or you can do the soft ball test by dropping some of the syrup in cold water.  If it forms a soft chocolate candy ball – then it is ready.
Quickly stir in vanilla, peanut butter, oatmeal and coconut.  If it starts to harden too quickly, stir in just a little more milk to loosen it up.  (this did happen to me this time).  Spoon out onto wax paper by tablespoons.  Let cool.  Cookie should set up.  No matter what, you still have yummy fudgy goodness.  I feel I would rather cook it a little too long than not long enough – it is easier to fix by adding the milk if that happens.  If its not cooked long enough then you have runny cookies and it is harder to fix them!
**NOTE:  Jernabi Coffee has not given me anything nor have they paid me anything to talk about their product.  I am sharing this with you because I love their freshly roasted, freshly ground coffee (done right on their premises!) and I personally enjoy a cup at home every single day.  I told you I was addicted!