On a regular basis, on Facebook, I will tell people what we are having for dinner and then ask what they will have on their table. Recently, my cousin Cheryl told me they were having Grilled Chipotle Shrimp. Being the shrimp lovers that we are, I had to know how she made it! She graciously sent me this very simple but delicious recipe – 2 ingredients!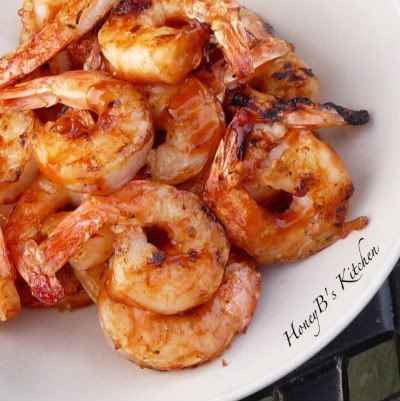 Cheryl's Chipotle Grilled Shrimp
1 lb jumbo shrimp (I used raw, peeled and deveined)
1 bottle Sweet Baby Ray's Chipotle-Raspberry BBQ Sauce
Marinate shrimp (Cheryl marinates all day) then grill until shrimp are done (approximately 10 minutes). Enjoy with a nice big salad! Thanks Cheryl!!
Other Summertime fun recipes you may enjoy!
Roquefurt Burger with Onion Jam from Healthy Delicious