If you haven't figured it out, the Grumpy Household is Crazy for Chicken Wings!
Howling Wings
We love wings, we just don't eat them often.  It is hard when you move to a new area to find a place that makes wings the way you like them, or the way your favorite place back home made them.  Our favorite place in Northern NY was Doug's Tavern in Heuvelton.  They have the best wings I have ever eaten when ordering them out.   As a matter of fact, before moving down here last year, I joined some current and former students (if they read this now, they know they were my favorites!) at Doug's for my goodbye.  Good food, sad occasion.  I can hardly believe it's been almost a year now!
Back to the wings.  I have two reasons I rarely make or buy wings.  First of all, I don't enjoy frying food in my home.  The best way to make wings in my opinion is in our turkey fryer where I let Grumpy do all the work!  I hate spattering grease.  My second reason is the simple fact that they are not the most healthy food for you even if you're baking them in the oven (unless your going skinless chicken wings…but that just isn't the same).  So, to us, they are a rare treat.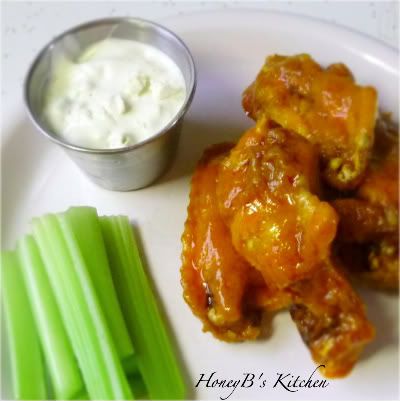 Our very favorite way to eat hot wings is my recipe right on the Frank's Red Hot Sauce bottle.  I know they make a hot wing sauce now too but I prefer to mix it up myself.  I also like to mix them up a little with different flavors at times, but Grumpy usually complains when I do that. Below are some of my favorite ways that I have made hot wings.
**Note – all the below are guides – please adjust amounts to your own tastes.
Honey Garlic Wings:  Stir in 1/4 honey and 3 large cloves minced garlic (fresh is best)
BBQ Buffalo:  Stir in 1/4 cup BBQ sauce of our choice with hot sauce mixture (my favorite is Sweet Baby Ray's or KC Masterpiece)
Maple Hot Wings:  Stir in 1/4 cup pure NY Grade A (what we use) maple syrup with hot sauce (this is my favorite way!
OR skip the hot sauce all together and make up the following sauces:
Honey Mustard Wings:  1/2 cup honey, 1/4 cup dijon mustard, 1/4 cup stone ground mustard
Here are some other great places I have found wing recipes for: