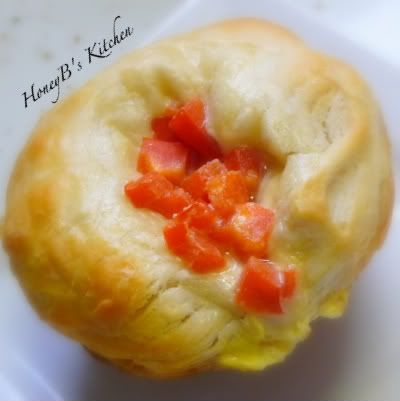 The last savory recipe for the Brunch contest was from Keri for Egg & Sausage Muffins. When I made mine I used red pepper instead of sausage – Keri says the possibilities are endless for the fillings in this recipe – so I went with one I knew was going to lower the fat. The muffin pictured is a full muffin – not a split one. After I made this one I split the muffins in half before forming in the muffin cups so there wasn't so much biscuit pushing the eggs out.
Following the recipe – keep reading…as the winners are announced at the end!
Here is the recipe in Keri's words! 🙂
I don't have the exact amounts, but I never follow it exactly anyway. I actually got this off a "healthy" recipe website, so if you make it like they suggest it's less calories, if you're counting.

350 degrees for 20+ minutes (I usually have to cook it for longer because I put more stuff in my muffins then it actually calls for)

1 pkg. 50% Less fat Pillsbury biscuits – 10 count (hard to find in the regular not Grands variety)

1 container egg beaters

1 pkg. 50% less ground sausage (Jimmy Dean makes it) or bacon

Light grated cheddar cheese

Make sure you spray muffin tin or use cups, muffins will stick

put one muffin in bottom of each spot and gently spread out so it covers bottom and goes up the sides a bit

put in cooked crumbled sausage

poor in egg (2 TBL)

sprinkle cheese on top and bake

You want your muffins to be golden brown and make sure the egg is cooked all the way through. You can loosen with a knife to remove muffins to cool.

The possibilities are endless…………
I'm sure you are all wondering who the winners are! First I want to say that I had taste testers helping me decide – it wasn't just my decision. I took food to work and fed my current bosses, future boss and some other faculty along with my co-worker and took their comments as to what they liked best and tallied it all up.
It was a really close call with the sweets but the winner is: Barbara of Barbara Bakes with her Citrus-Cream Cheese Pull Apart Rolls!
My son Justin was a taste tester and he barely gave me a chance to sit at my desk at work when I had an IM from him telling me "OMG, these rolls are freakin' awesome!" and "I hope Kristina left her's at home so I can steal them from her!" lol. He even bugged me to send him the recipe like ASAP so he could share it with Kyle his co-worker! He also told me he intended to share one of the two rolls I gave him with Kyle, but after the first bite of his first roll he decided he could only give Kyle a taste! lol. Poor Kyle. I agree with Justin. This was one of the best breakfast treats I have had since the Daring Baker's Danish Pastries I made!
Lisa, who submitted the Breakfast Bruchetta was the winner of the savory dish!
Those of you who follow my blog are most likely aware that I do have a hard time with eggs at times. I can't eat just scrambled eggs without dousing them in ketchup and even then I can get queasy when even just smelling them. So, for me to tell you all that I LOVED this recipe is a big accomplishment! I'm not sure what it was, maybe the flavorful veggies beneath the eggs, but I literally did not "taste" the eggs. I know that Fallon and her mom were big fans of this recipe also! This is definitely a keeper. I actually suggested to Grumpy we have it for dinner tonight….but he's a stickler about when you eat breakfast….and that is in the morning.
Congrats to both Barbara & Lisa! I will be in touch with you very soon about your prize!
I also want to thank Fallon of
Fallon's Cucina
for think of this contest, for participating with me and for trying some of the recipes herself!