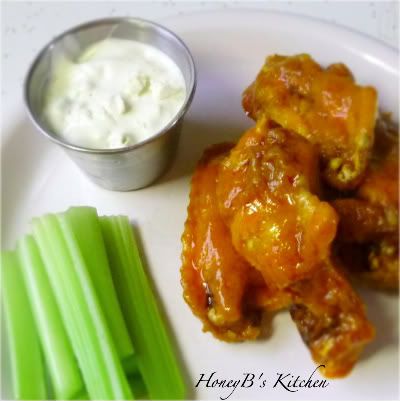 Well, I don't live in Buffalo and I'm not an expert, but I've been to Buffalo and I'm a New York-er, so…..close enough! Oh, and BTW, when I lived in Iowa and people found out I was from NY they automatically assumed I was from the City – which I am not…and I have only been there once in my life! I'm a NY'er but I'm a Northern NY'er! ;o) Another thing that they would say would be "your not what I would expect of someone from NY" – meaning, I was outgoing and friendly – something they assumed NY'ers were not. It always amazes me that when you say your from NY people automatically think of the city – NY is such a huge state and there is more to it than the city! There are Up-staters (north of the city), Western NY'ers, Central NY'ers and Northern NY'ers. I also want to yell from the ceilings that Northern NY'ers are not Up-staters! lol. We are much farther north than than that! Yeah. We are almost in Canada ;o) Hence my eh's every so often. Hmm, I wonder. Does that make me "almost" Canadian? Oh heck, just call me a Yankee. ;o) Anyway, now I got that out of the way let me tell you about Buffalo Hot Wings!
While wings that are breaded and fried then coated in a sauce are good….nothing beats a real wing made the buffalo way. I say don't even call it a buffalo wing if you haven't cooked it like one! A real buffalo wing has no breading and is coated in Frank's Red Hot and Butter Sauce. Yum yum yum. Grumpy likes to make the wing sauce just to dip his fries in!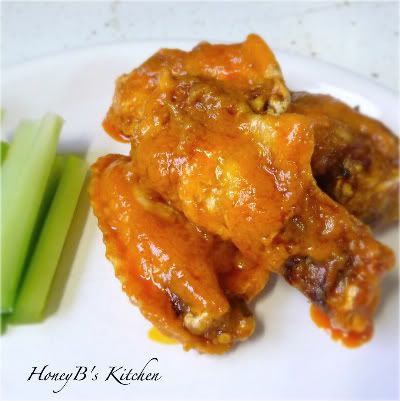 It has been a long, long time since I've made wings. I think it would be safe to say that I only make them about once a year. The last time I made wings was for the FoodBuzz 24,24,24 that I participated in back in October….and then they weren't Buffalo Hot Wings. The best place (besides home) to get wings in our area is at Doug's Tavern in Heuvelton, NY. I'd link you to them, but they don't have a website. If you are ever in Northern NY and near Heuvelton, I suggest you definitely try their wings. Wing night Wednesday can be pretty hectic (we have waited a long, long time to get our wings) but its worth it. When we can't go out and want to have them at home I always make them this way:
Deep fry your wings for the recommended time. I usually deep fry 10-13 minutes and sometimes even longer. Grumpy likes them crispy. While wings are deep frying you can mix your sauce. You will need 1 cup of Franks Red Hot Sauce and 1/3 cup butter. This is our preferred way. You can adjust the amount of hot sauce to butter ratio depending on how hot you like your wings. Melt the butter and stir in the sauce. When the wings are done place them in a deep bowl that has a lid. Pour the hot sauce over the wings, place the cover on the bowl and give it a few good shakes.
Serve the wings with blue cheese dip and celery sticks.
If you want to switch these up a little and it doesn't matter to you if your eating "authentic" buffalo wings, you can do a few different add in's like I have listed below:
When the sauce is incorporated (butter & hot sauce blended) add some of one of the following:
**Note – all the below are guides – please adjust amounts to your own tastes.
Honey Garlic Wings: Stir in 1/4 honey and 3 large cloves minced garlic (fresh is best)
BBQ Buffalo: Stir in 1/4 cup BBQ sauce of our choice with hot sauce mixture (my favorite is Sweet Baby Ray's or KC Masterpiece)
Maple Hot Wings: Stir in 1/4 cup pure NY Grade A (what we use) maple syrup with hot sauce
OR skip the hot sauce all together and make up the following sauces:
Honey Mustard Wings: 1/2 cup honey, 1/4 cup dijon mustard, 1/4 cup stone ground mustard
These are ways I have eaten wings and I know are good! Enjoy!