Last week when I was visiting Natasha's blog, Living in the Kitchen with Puppies, I clicked on the badge for I Heart Cooking Clubs. I have seen the badge around but never took the time to click it until last week! Well, after I clicked the badge and was taken to the page for I Heart Cooking Clubs, I knew I had gotten myself into something. You see, what the group of bloggers do there is they cook from a cookbook and post on their blog, then link back to I Heart Cooking Clubs.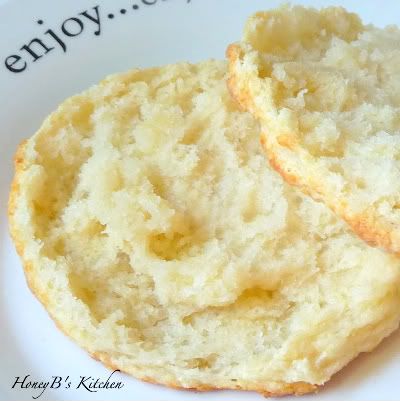 The cookbook they are cooking from for the next 6 months is Mark Bittman's How to Cook Everything
. That was the clincher for me. I have had that book for a few years and believe it or not, never made anything from it! I decided then and there, this was the push to get me to crack that big ole' book open and start cooking. The theme for this week was Breakfast in Bed. Appropriate for Mother's Day (which, I'm sorry to say, I don't know if I ever remember being served breakfast in bed….ever!)
I loved that the recipe I was looking at used yogurt or buttermilk. I had some Greek yogurt in the fridge that I needed to use up and I wanted biscuits! Biscuits slathered with some of my homemade Raspberry Rhubarb Jam. Now that I know how to make these biscuits and have them turn out yummy. I will be making them again….especially when we have some fresh strawberries in season (which is soon!) for some yummy ole strawberry shortcake!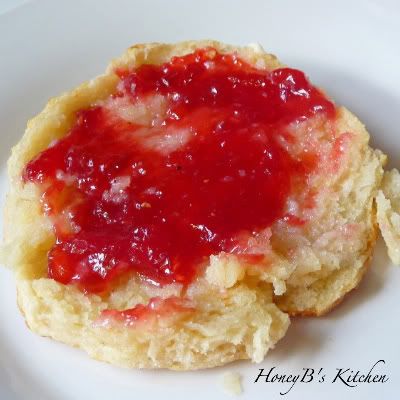 Bittman's Yogurt or Buttermilk Biscuits
Makes 10 or more (I halved the recipe and got 4 large biscuits)
Time: 20 – 30 minutes
**Note: one thing that stuck with me and I believe is what made my biscuits turn out so yummy was we are told in the book that "the more butter the better." This prompted me to use more than I would have if I had just halved the recipe!
The recipe listed is the full recipe – I made 1/2 of this by cutting all ingredients in half except for the butter, which I used 3-1/2 Tablespoons of
2 cups all-purpose or cake flour, plus more as needed (I used all-purpose)
1 scant teaspoon salt
3 teaspoons baking powder
1 teaspoon baking soda
2-5 tablespoons cold butter (more is better)
3/4 cup plus 2 tablespoons yogurt or buttermilk
Below is how I mixed my ingredients – Bittman has two sets of instructions in his book…I took the easiest way!
Heat the oven to 450 degrees. Mix the dry ingredients together in a food processor. Cut the butter into bits and pulse it in the food processor until thoroughly blended.
Using a large spoon, stir in the yogurt until mixture just forms a ball. turn dough out onto a lightly floured surface and knead it 10 times; no more. If it is sticky, add a little flour, but very little; it should still stick slightly to your hands.
Press the dough into a 3/4 inch thick rectangle and cut into 2-inch rounds. Put on ungreased baking sheet. Gently reshape the leftover dough and cut again. Bake for 7 – 9 minutes or until the biscuits are a beautiful golden brown. Serve within 15 minutes for them to be at their best.