This week I am the hostess for Presto Pasta Nights and we have quite a few yummy submissions this week! At the end of this post will be instructions for PPN #229 and how to participate. Please click the photo captions to be directed to each participants site where you will find their recipes. I hope you will enjoy!
Our first recipe this week is Grilled Eggplant and Mango Noodle Salad with a Sweet Chili Dressing submitted by Janet of The Taste Space. This salad would be a terrific way to end the summer….the grilled eggplant with sweet mango, chili dressing over fresh shredded zucchini and pasta sounds like a divine combination!
Next we have this great looking dish of Vegan Mac & Cheese with Spinach and Sausage submitted by Deb of
Kahakai Kitchen
. Deb found a recipe for a great vegan sauce recipe that she tried with this dish along with her new favorite sausage substitute. For someone like me who grew up with this type of food, it seems like pure comfort to me (and obviously was comfort for Deb too!)
I was in vegetarian heaven this week with quite a few vegetarian submissions. Here is yet another one submitted by Joanne of Eats Well With Others for her Pasta with Tomato Peach Sauce. What a gorgeous photo and the peaches and chickpeas in this recipe just make me drool. I cannot wait to try this one!
But wait! We have another vegan recipe! See what I mean? I love it! Shaheen of
Allotment 2 Kitchen
submitted this yummy Spicy Pasta with Vegan Chorizo. What perfect timing! I bought some vegan chorizo not too long ago and have been wondering what to do with it. Well I have no need to wonder anymore. This looks and sounds delicious!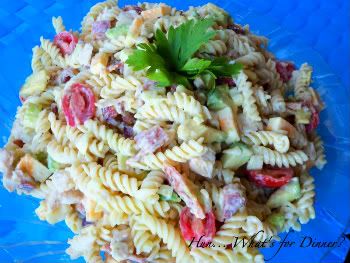 We can't leave the meat eaters out. That wouldn't make Grumpy very happy! 🙂 Cindy of
Hun…What's for Dinner
submitted this delicious salad with chicken, pasta, and bacon. Um, did someone say bacon? I love the avocado in this too!
We can't talk noodles without talking some Asian can we? Jules of
Pictures of all my Princesses
submitted this great sounding recipe for Spicy Asian Noodles with Chicken. This is originally a Cooking Light recipe, which, if you are an avid reader of my blog, then you know, this is right up my alley – Cooking Light and Asian! Oh yeah!
Nupur of UK Rasoi..Day To Day submitted this flavor packed Spaghetti in Tomato-Chili Pesto Sauce. I recently just made my own pesto sauce and remembered just how good it was! Nupur found a different approach to her recipe when she made it and stated that "S never believed there were vegetables in that sauce"! For those looking to get the vegetable nutrition and hide it from those who balk at it, here you go!
Another pasta dish full of flavor is this Fresh Pasta with Heirloom Tomatoes, slow cooked onions, and ricotta cheese that was submitted by Stash of The Spamwise Chronicles. I don't know about you but the slow cooked onions added to this really makes my mouth water. The tomatoes and cheese up the ante!
Tina of
Life in the slow lane at Squirrel Head Manor
submitted this wonderful side dish of Risi e Bisi. I love orzo and this flavor packed side dish looks pretty darn delicious next to that chicken. Bring me a plate, will you please?
Lastly, I submitted this Doctored up Pasta Sauce with Whole Wheat Spaghetti. We finished up the leftovers last night and darn it, I almost it was even better! The sauce is thick and flavorful and was proclaimed the best pasta sauce I have made by Grumpy! That's a pretty good endorsement folks from my picky eater!
I hope you enjoyed this round up of pasta dishes. Thank you to everyone who participated this week and I hope you will come back to join us next week. Thank you to Ruth of
Once Upon a Feast
for keeping up with this great event and keeping it going. If you would like to participate next week, make sure to check out the
Presto Pasta Night's
website for the instructions on how to participate. Next week's hostess will be Ruth herself and she will be accepting submission until Thursday, September 1, 2011. Hope to see you there!